In the work of performer Daglara, cutting-edge fashion meets queer performativity, vitriolic humour and local party culture to raise issues of tolerance and belonging in a post-austerity Greece. The drag persona of Athens-based fashion designer and visual artist Nikos Tsironis, Daglara is a norm-busting, trans-specieist unconformity, and the mother of House of Daglara that was founded last year. In July 2018, House of Daglara took part in Superball 2018, a drag event described as "the biggest drag battle in Europe" that took place at the legendary Paradiso in Amsterdam. The House won the competition, bringing much honour and pride to their country. In the same competition, a fanged Daglara won the title of Miss Superball 2018.
Perfectly aware of the precarious conditions queer bodies are forced to face in Greek society, Daglara devises fierce performances and creative projects that have activism at their core — with the intention to undermine violence and hate through appropriating and subverting systemic prejudice and trash-culture vulgarity. On the occasion of her recent victory and the upcoming season opening at BeQueer Club, we interview Daglara to find out more about her artistic ideas, the subversive power of fashion and the importance of drag in Greek queer activism and resistance.
When was House of Daglara founded and who are its members? What is the idea behind it?
The House of Daglara is Daglara, Viscosity, Filothei, Chraja and Darla Qubit. We are all performers and artists that work together under the same roof, as resident drag queens of BeQueer Club in Athens. The House has been formed somewhat organically during this past year and officially from the moment we were presented with the opportunity to compete in Superball 2018. Our philosophy stems from my conviction that there is a need for a dynamic underground scene that goes against the limiting mainstream and reductive drag and its obsession with the woman as pop star and diva.
Your collaboration with Georges Jacotey began in 2014 through the creation of several fashion collections. How did that project evolve and what other work has come out of it since then?
When I came back from Antwerp and began collaborating with Georges, we were hoping in establishing a local fashion brand unlike anything else in Athens. We aimed at creating clothing that is exciting, elaborate and unapologetically queer to counteract the very conservative system [here]. We have created a few capsule collections only to realise that a commercial framework wasn't related to our interests and aspirations. We shifted our project towards more artistic endeavours. We are still working on garments, but these days our fashion work is merely part of a more complete body of work that includes images, videos, performances and installations that correspond to our broader artistic vision of queer representation and resistance.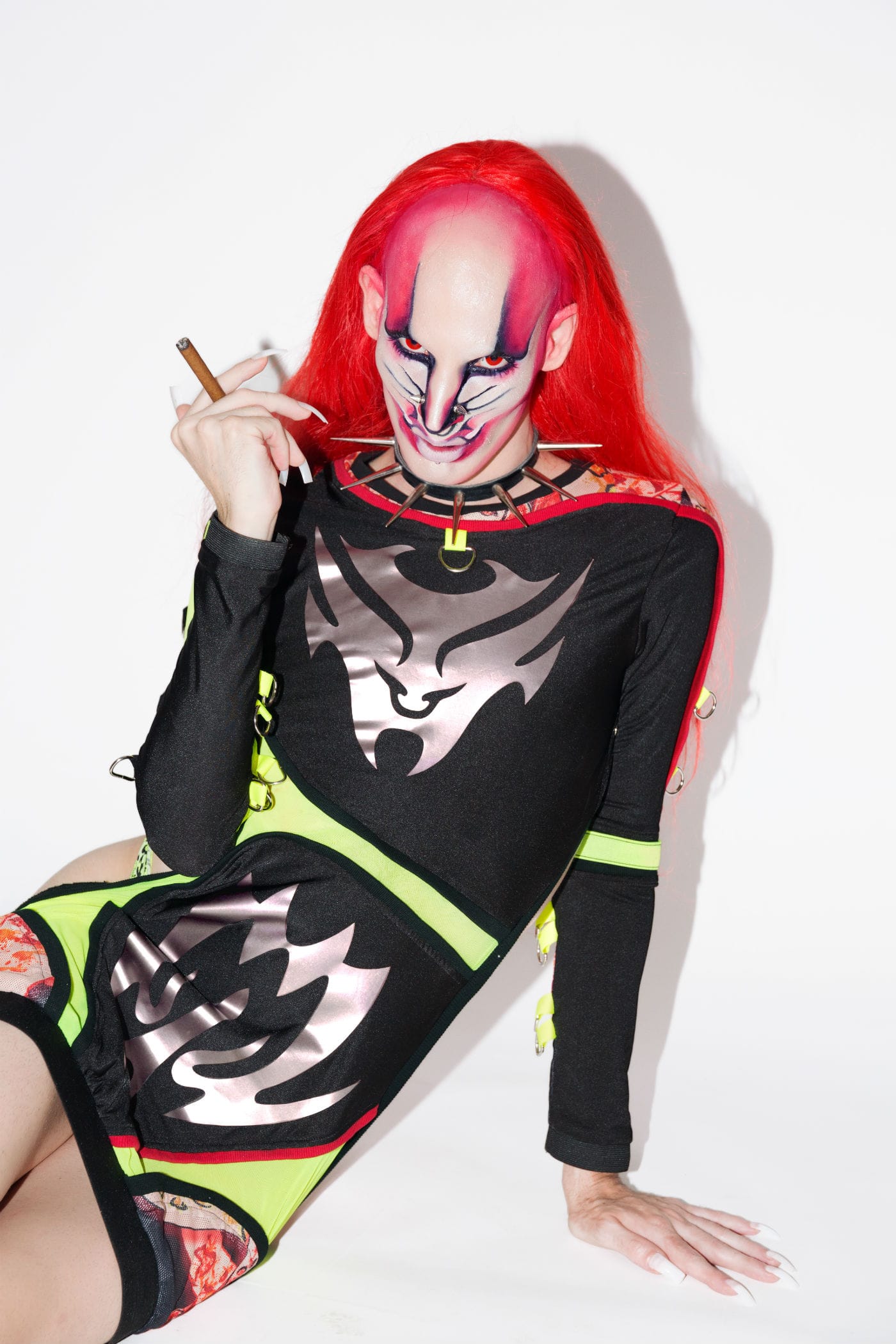 How would you describe your aesthetic? Demonic, feline, serpentine or bouzouki-junkie?
All of the above, actually. My aesthetics derive from a universe of references and obsessions that revolve around the trappings of identity. From the quintessential martyric female to the transpecies warrior femme, it's all a play of hybridisation and celebration of queerness.
Can you help us explain to our foreign readers the concept of fili-fidi?
Our "fili-fidi" (snake friend) concept for Superball, might sound like a funny-shady pop-coated expression but beyond the surface it has to do with my constant preoccupation with transpeciesism and the desire to create an image that transcends the limitations of the human condition. We built our performances starting from a fashion point of view and experimenting with notions of hypersexualised human-serpent forms that appear like otherworldly priestesses.
In House of Daglara performances we see a completely queer treatment of greekness. Is it important for you to incorporate Greek culture in your work?
To me, it's apparent that, as performers, we ought to dive into our local cultural capital, deal with the "greek trauma", re-appropriate even its most problematic facets and translate it into a force of queer empowerment. It's a deeply maturing and liberating process.
But what do you mean by "greek trauma" and how does it become part of queer empowerment?
I'm referring to the miserable and contradicting condition found in Greek society today, which is swinging between a martyr mentality combined with an inferiority syndrome on the one hand, and a twisted perception of the Greek ideal on the other. Through [mainstream] culture and [political] structures, this condition is perpetuating systemic violence that marginalises anything "not normal". This situation can be transformed into queer empowerment — by removing guilt from and deconstructing aggressive mass vulgarity (λαϊκότητα), and by redefining it through mixing it with femme-queer and personal references. Making aspects of Greek culture accessible, in a safe environment like BeQueer, dilutes the negative experiences they have always caused to queer people.
Your performances move beyond stereotypical representations of femininity, or even beyond what is gradually becoming a mainstream queer aesthetic. Where do you think drag is heading towards today, and what part does it have to play in lgbtq+ culture in general?
Drag should always inspire resistance and liberation. To promote the idea that "beauty" is malleable rather than definitive and can in fact be anti-conformist and anti-establishment.