"Indeterminacy is not a lack, a loss, but an affirmation, a celebration of the plenitude of nothingness".
Karen Barad
'As I Intensify I become More Singular' is a composition of works, arriving as responses to my words, wounds and inconsistencies, dealing with the fractured narrative of disorder in my text 'Underneath My Tongue I Cultivate Moray Eels'.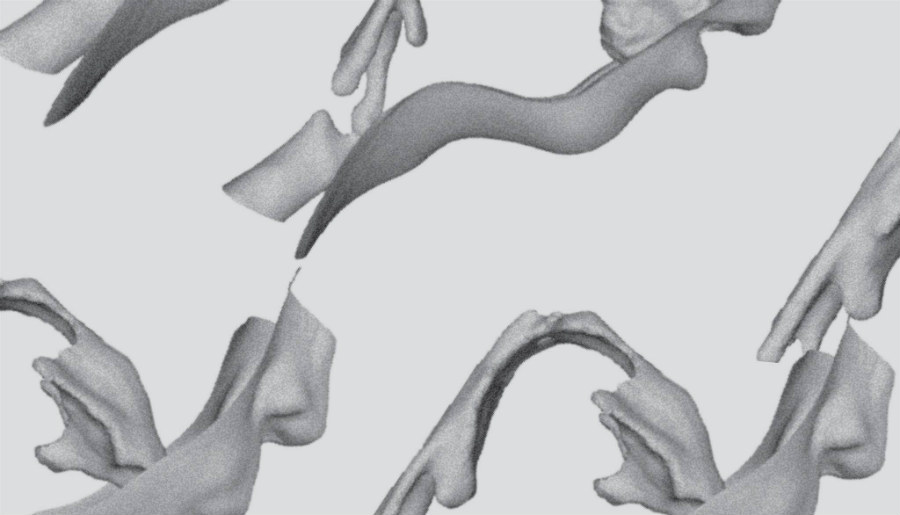 Disorder is treated as an indeterminacy, as a movement; it (mal)functions as a transformation, as a transition; not as a displacement. The disordered operates as a method to talk about the politics, poetics and poethics of the non-sense, of elements that remain in the imaginal realm. It leads both the content and the structure of the space. Clarice Lispector speaks about coherence as mutilation; she wants disorder. The works, the sounds, the movements displayed in the show long for tracing what it takes to allow for the hiatuses, repetitions, incoherent associations of the fragmented narratives to be present, loud, exposed.
The step, the night, the erotic carry the qualities of the break and time is using them in order to grow bigger, against ordinary language. The break then becomes a process that requires control through the rhythms of breath, of language and paralanguage, of thought. 'As I Intensify I Become More Singular' uses this gap as a tool to read the space as a whole; it flows as a schema aiming to reinvent continuity, to think through what remains unspoken.
"The loop is a prerequisite for the construction of chaos and chaos had to promise that it would forever preserve that loop. It is called fate but fate is an a priori allegory."
excerpt from
Underneath My Tongue I Cultivate Moray Eels
As I Intensify I Become More Singular
Curated by Ioanna Gerakidi
Participating artists: Gianmaria Andreetta, Margaret Haines, Dorota Gawęda and Eglė Kulbokaitė, Danae Io, Nefeli Kadinopoulou Asteriou, Chrysanthi Koumianaki, Kosmas Nikolaou, Anastasia Pavlou, Stefanie Rau, Paky Vlassopoulou, Danielle Zorbas
Duration: 14/04/2018 - 20/04/2018
Opening Hours: Sunday: 12:00-16:00, Monday & Tuesday 16:00 - 20:00
Opening: 14/04 at 20:00
The opening will serve as an evening of a series of readings and performances by Gianmaria Andreetta, Nefeli Kadinopoulou Asteriou, Kosmas Nikolaou and Stefanie Rau, starting at 21:00.
Sub Rosa Space
Praxitelous 37, third floor
Athens 105 60
Facebook page
Cover photo: Danae Io, Untitled, 2018.